The Best Salami and Cheese Pairings for a Quick and Easy Charcuterie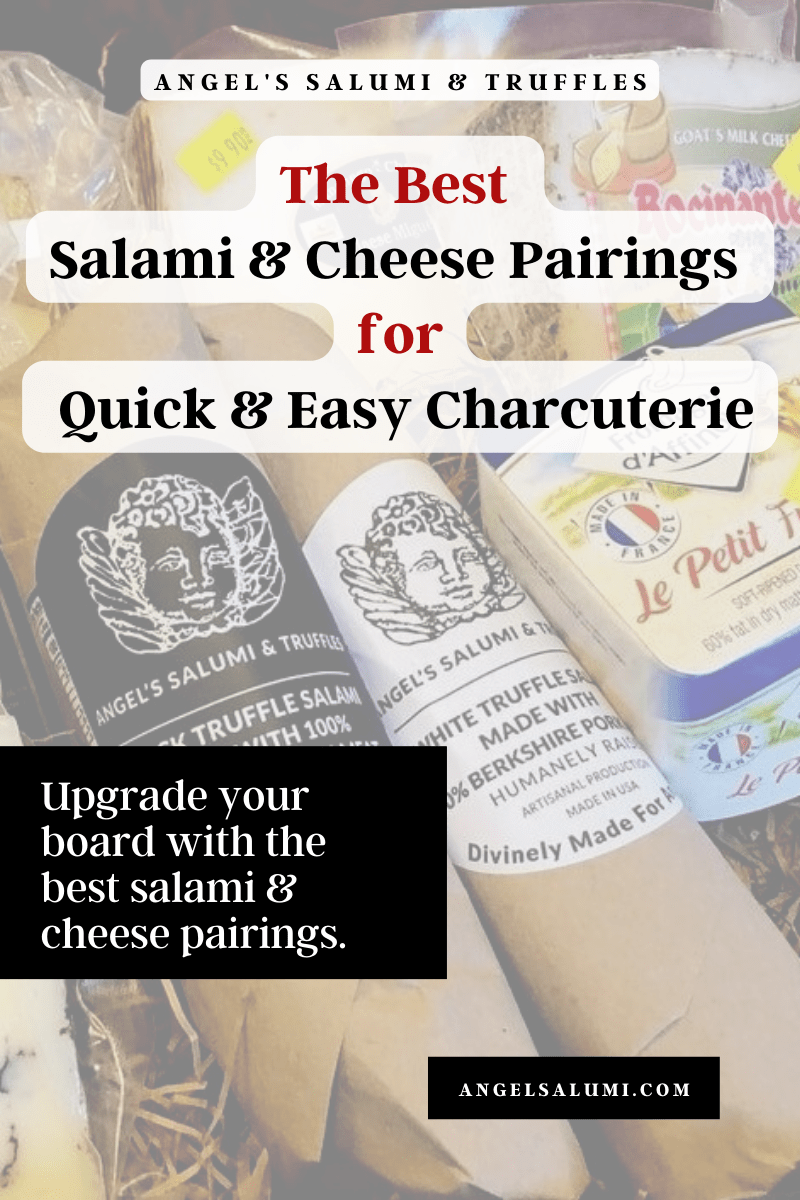 A salami, cheese, and crackers platter is a classic platter to serve when entertaining. When elegantly arranged, it looks like a premium meal that took a lot of effort on your part. In reality, it's all just some basic knowledge of the best cheese and crackers to pair with salami. It's about knowing how the flavors complement one another – and, of course, where to get the best salami, cheese, and crackers. 
When it comes to finding the best cheese and crackers to pair with salami, Angel's Salumi & Truffles is full of varied choices. Just as with wine and cheese pairings, there are certain types of salami and cheese that complement each other better than others. 
We've compiled this guide to the best cheese and crackers to pair with salami, so you can create the best charcuterie board ever made.
The Best Salami and Cheese Pairings
It's happened to the best of us. We're standing there in the grocery, feeling the beads of sweat start to form on the forehead as we stare at the seemingly myriad different types of salami and cheese for several agonizing minutes before desperately Googling "does black truffle salami go with sharp cheddar cheese?" 
Keep this guide to the best cheese and crackers to pair with salami handy and ready for use as a reference. 
Lomo and Manchego 
Lomo, or lomo curado, is a dry-cured pork tenderloin popular in Spain. Lomo is quite similar in texture to Spanish cecina, but is generally not smoked and is more highly seasoned than cecina. Lomo and Manchego cheese are a wonderful pairing with a side of grapes, melon slices, and French butter sea salt crackers. 
Berkshire Lomo is a classic Spanish Lomo, made with Berkshire pork loin. The Lomo is dry-cured and rubbed with five different Spanish paprikas that are massaged into the pork to better help the flavor of the paprika penetrate the meat for an optimally tender texture. The Spanish Lomo is then aged for four months in a dry room to preserve the aroma. Chef Pascal says our Berkshire Lomo "will melt in your mouth." 
Known as King of Spanish Cheeses, Manchego is easily the famous cheese in both Spain and abroad. This cheese is made with milk from the Manchega sheep of La Mancha in Central Spain. The semi-firm, sweet but also mildly sharp and nutty flavor with long-lasting and intense aromas matched with perfect salinity, make the Manchego cheese ideal for pairing with Berkshire Lomo.
Serve the cheese in thin, triangle wedges next to grapes, melons, figs, pistachios, and cashews. Pair with butter sea salt crackers and a Malbec or Merlot wine. 
Prosciutto and Parmesan
Prosciutto is an Italian delicacy made from the hind leg pork meat (not to be confused with pancetta, which comes from the belly of the pig). You can buy prosciutto as pre-sliced into tissue-thin pieces, or as a whole leg to use as a deliciously elegant centerpiece for a family dinner.
Duck Prosciutto is a classic, French-style dry-cured duck breast that was air-dried for 35 days. Our Smoked Duck Breast Prosciutto has the addition of brilliant notes of natural hickory. The Moulard ducks used for our Duck Breast Prosciutto were raised in North America on a 200-acre farm, cage-free and without antibiotics or growth hormones with a high-quality, exclusively vegetarian diet. A hybrid between a Muscovy and Pekin duck, the Moulard has a hearty breast and hefty legs that make it the favorite choice for foie gras in certain regions of France. 
Wild Boar Prosciutto is another savory option to pair with Parmesan and Sourdough Flatbread Bites. Our Wild Boar Prosciutto is 100% Wild Boar and has been dry-cured for six months with sea salt and sugar-in-the-raw. 
Pair the Prosicutto with Parmesan, cantaloupe melons, and some Rustic Bakery Organic Sourdough Flatbread Bites with a glass of your favorite Tuscan red. The salty and crumbly parmesan meets the buttery and savory prosciutto in a waltz of flavors on your tongue. Prosciutto and Parmesan are both aged, which makes them incredibly flavorful and the best kind of salty-sweet.  
Wild Boar Salami and Comté
Wild Boar is a lean, unique, and surprisingly not gamey-tasting meat as a result of the wild boar's diet and exercise levels. A wild boar is active, producing a strong, rich, and nutty flavor that is entirely incomparable to other meats. Wild Boar meat is high in protein and low in cholesterol, making the meat complex, deeply colored, and more intensely flavored than farm-raised pigs. 
For those who wish to substitute beef and pork for a different meat without sacrificing taste and quality, Wild Boar Salami is the perfect option. Our Wild Boar Salami comes from 100% Texas Wild Boar (all-natural, free of nitrates and nitrites), martini rosso, and herbs for an exceptional, authentic flavor of the Mediterranean.
Pair your Wild Boar Salami with Comté, Alpine cheese made from cow's milk. Similar to the Swiss Gruyère, but produced across the border in the French Jura region, this is a handmade, artisan cheese with a tight-knit texture and satiny body. The flavors of this cheese vary in intensity based on the season, production techniques, and age. Our Comté is a 10-Month Reserve from Seignemartin, featuring notes of apricot, hazelnuts, and toffee. This is a delightfully versatile cheese that is equally ideal for snacking and cooking.
Enjoy your Wild Boar Salami and Comté with some sourdough flatbread crackers, a glass of Viognier or Chianti, and some Taggiasche Olives. 
Soppressata and Havarti
Soppressata is a dry salami, usually made with pork or beef. Our Italian-style Soppressata Picante Salami is made using 100% Berkshire pork meat, fermented, dry-cured, and then aged for three months in a dry room. It has a natural casing with coarse grind for minimal acidity. The Soppressata Picante Salami recipe includes fennel, red wine, Grappa, and picante spices. 
You certainly can't go wrong with this best salami and cheese pairing: Soppressata and Havarti. Havarti is a creamy, semi-soft cheese with a supple, buttery flavor. The flavor of the cheese complements the herbs and spices in the Soppressata Picante Salami, allowing the meat's seasoning to shine while bringing out its own earthy and nutty notes. 
Enjoy the Havarti and Soppressata alongside Frantoio's Artichoke Paste, Rustic Bakery Organic Crackers, Taggiasche Olives in Brine, and a glass or Merlot or Syrah. 
Toscano Salami and Parmigiano Reggiano 
Following recipes fashioned after the Italian Tuscan original recipe, Toscano salami is a flavorful dry-cured meat that is moist and delicious, sprinkled with mouthwatering columns of fat. Our Italian Toscano Salami is no ordinary salami, as it's made with 100% Berkshire pork that was slowly and carefully aged for three months. The salami is prepared with black peppercorn, white wine, and fresh garlic for a robust, bright, and tangy salami with a flavor that lingers on the palate. 
Pair Italian Toscano Salami with cheese like Parmigiano Reggiano, which is aged notably longer than most cheeses. It's that aging that gives the cheese a lot of its granular texture and its rich flavor. The cheese holds a sharp, developed fruity and nutty taste that pairs excellently with the Toscano salami. Enjoy with warm bread and Basil Extra Virgin Olive Oil and pint of Amber Ale for a savory meal. 
Black Truffle Salami and Trufa Negra 
Truffles are considered the height of culinary delicacies, carrying an intense price tag and even more intense flavor. 
The reason for the high price of truffles is that it's simply not possible to easily plant, farm, and harvest truffles. In many regions throughout Europe and the U.S., people are creating truffle farms in a hopes of expanding the global truffle production. This is highly challenging to accomplish, especially with the quality and aroma of wild-grown truffles still being superior. However, truffle hunting and harvesting is no easy feat, requiring considerable knowledge and the use of a trained truffle hunting dog. 
The earthy, nutty, and chocolatey flavors of the truffles, and the magical way in which they enhance any dish they are added to, makes the effort all worth it. Our Black Truffle Salami, in fact, is a star favorite among Angel's Salumi & Truffles customers. Truffle Salami is a unique salami made with 100% Berkshire Pork meat and 5% Black Truffles that are sourced from Perigord, France. This salami is dry-cured, fermented, and aged for three months in a dry room. Our Black Truffle Salami is prepared with French Brandy and a blend of spices for an forgettable taste.   
What Does Truffle Salami Taste Like?
For one of the best salami and cheese pairings, serve the Black Truffle Salami alongside Trufa Negra, some Frantoio Sundried Tomatoes, sweet and crunchy Borettane Onions, and Rustic Bakery Organic Crackers for an incredible charcuterie board lunch. The Trufa Negra cheese is elegant in both appearance and personality, with rich nuances and pronounced flavors. It is made from pure sheep's milk with a cure of 20-30 days and premium black truffles woven throughout its interior. 
This sophisticated, attractive meat and cheese pairing of Black Truffle Salami and Trufa Negra cheese will surprise and please the tastebuds of amateurs and connoisseurs alike! 
Lonzino and Rocinante 
Lonzino is a piquant dry-cured cut of pork aged into a lovely pink color with flavor that is similar to cured ham. In Spanish, this type of meat is lomo and a certain blend of spices rubbed onto the meat turns it into an Armenian favorite, basturma. 
Our classic Italian Berkshire Pork Lonzino is made using 100% Berkshire Pork loin. The pork loin is massaged with herbs to help the flavorful ingredients become absorbed into the meat. From there, the Berkshire Pork Lonzino is dry-cured for four months to ensure optimal tenderness. This flavorful meat carries floral, Juniper, and Rosemary notes for a unique taste. 
The Berkshire Pork Lonzino is wonderful when paired with Rocinante Iberico, a traditional Spanish cheese beloved for more than 2,000 years. This cheese is produced in the Spanish regions of La Mancha and Castilla Leon with a blend of cow, sheep, and goat milk. 
Rocinante Iberico has a smooth, pleasant, and lasting flavor that is slightly spicy and salty with an aftertaste reminisce of hay and nuts. The cheese is firm with a natural rind, and is best served with Lonzino in addition to Frantoio Ligurian Pesto, Rustic Bakery Organic Sourdough Flatbread Bites, Clovis Cornichons, and Ligurian Black Olive Paste.  Enjoy this spread with a glass of Pinot Noir or an IPA. 
Venison and Pecorino Romano 
Another flavorful salami and cheese pairing comes from Venison Salami and Pecorino Romano. Venison is best described as having an earthy taste and rich texture. This meat tastes like a celebration, typically imbued with culinary echoes of the herbs, acorns, berries, and sage the deer enjoyed during its lifetime. Venison is less succulent than beef, but also firmer and smoother. 
Our Venison & Berkshire Pork Salami is made with New Zealand Venison and Berkshire Pork. The salami was fermented, aged for three months, and seasoned with red wine, juniper berries, and black peppercorn. Our venison is certified free-range, grass-fed, humanely raised, and free of both antibiotics and growth hormones. Venison is known to be a leaner protein, one that is rich in essential nutrients, tender in texture, and high in moisture. 
Pair your Venison & Berkshire Pork Salami with Pecorino Romano, a hard Italian cheese made from sheep's milk. While this cheese is typically served shredded on pasta, it is also a lovely addition to a charcuterie board. It can be served whole with a cheese knife, or broken up into chunks, on an elegant wooden cutting board for a rustic presentation that matches the flavors of the charcuterie. This bold, salty cheese beautifully complements the salty bison salami. It also sits nicely alongside sweeter charcuterie board options, such as dried fruit, candied pecans, or figs. Add some more savory flavors to the board with White Truffle Salami as a second cured meat option, along with Sundried Tomatoes in Olive Oil, Rustic Bakery Organic Sourdough Flatbread Bites, and Taggiasche Olives. Enjoy all of this with a wine option like Chardonnay, that isn't too sweet, or an Imperial Stout. 
Bison and Gouda
When it comes to the best meat and cheese pairings, especially salami and cheese pairings, it's often the unique flavor combinations that win First Place. That's the case with the Bison-Gouda salami and cheese pairing. 
The flavor of bison meat can easily compete with the best steak you have ever eaten. Unlike many other specialty meats, bison meat is not gamey. It's also very tender, regardless of how it is prepared. Our Bison Salami is 100% grass-fed, free-range Bison from a family-owned farm in North America. The Bison meat is wrapped in a beef casing, which is makes it a wonderful pork-free charcuterie option. The Bison Salami is fermented and aged in a dry room for two months, and was prepared with Whisky, black peppercorn, and fresh garlic. 
Try pairing the Bison Salami with Gouda, a semi-hard cheese hailing from the Netherlands. Gouda comes in several varieties, including aged and smoked. Generally produced with cow's milk, Gouda cheese is characterized by its distinct aroma, caramel flavor, and dense texture. Aged Gouda is similar in texture to Parmesan, with crunchy crystals and a crumbly structure. Aged gouda has a rich, nutty, caramel flavor that is typically reminiscent of freshly made butterscotch. 
The peppery-garlic of the Bison Salami and the sweet-creamy of the Gouda blend gracefully and, depending on the age of the cheese, carries a savory finish ranging from smooth to sharp. This Bison and Gouda pairing is perfect to combine with a red or white Burgundy wine, Orange Extra Virgin Olive Oil, sourdough flatbread crackers, and Italian Artichoke Hearts. 
Finding Salami and Cheese Charcuterie
Those refrigerated, pre-packaged, children's lunches with the round lunch meat, crackers, and stack of sticky cheese was our stepping stone to enjoying charcuterie later on as adults. 
You absolutely could still stack any type of cheese and any type of meat on whichever crackers happen to be convenient, and it would be passably tasty. Or, you could carefully find and select the best cheese and crackers to pair with salami to elevate your lunchtime feast to something that could be considered gourmet. 
Obviously, let's go with the latter. 
Finding the best salami and cheese pairings can be tricky, but this blog post should help you find a delicious charcuterie combo for your next meal. You can find and order all of the ingredients for these suggested pairings and charcuterie options through our website. 
Curious about what other salami and cheese pairing options you may also enjoy? 
Call us at 760-931-1324 and we'll help you find what you're looking for.