FREQUENTLY ASKED QUESTIONS
What can I expect after placing an order?
All orders placed before 3pm Monday through Friday will be fulfilled and packed the same day. All orders placed after 3pm Monday through Friday will be fulfilled and packed the following business day.
We ship Monday-Wednesday to ensure temperature-sensitive products reach their destination within 2 days.
It is your responsibility to ensure you have entered the correct shipping address, shipping method, and delivery timeline. Shipments that are undeliverable and/or delivered incorrectly due to an incorrect, incomplete, or invalid shipping address are disqualified from refunds. You will receive a confirmation email with your tracking number within 24hrs of placing your order. Orders under $300 do not require a signature, carriers generally require signatures for apartment buildings/complexes.

Questions about credit cards?
Credit card payments are processed on the day that your order is received. We accept the following cards (issued by a US financial institution): Visa, MasterCard and American Express. We are unable to accept cards issued by banks outside the U.S. For your security, your billing name and address must match that of the credit card used for payment. We reserve the right to cancel any order that does not fit this criterion. The credit card verification number is the 3-digit code on the back of your Visa or MasterCard, and the 4-digit code on the front of your American Express card.

Gift Basket Substitutions
Because of the perishable and sometimes seasonal nature of many of our products, we reserve the right to make substitutions of items of equal or greater value as necessary to ensure timely delivery of your purchases.
Why do product prices change?
We choose to source our proteins from the best farms around. Prices are subject to change due to seasonal variances in protein supply availability and truffle season variances. We do offer Wholesale / Distributor pricing for restaurants / stores!

We can sell foie gras to out-of-state residents. Angel's Salumi & Truffles cannot sell foie gras to California State residents due to the temporary Foie Gras ban. We redirect our California customers to our Nevada distributing partner (Laurel Pine Living Luxury) who carries Angel's Foie Gras!

It takes one business day to receive and process your order. These orders are then shipped accordingly per the shipping rate selected.
Orders placed before 3 p.m. M-W will be shipped the same day. Temperature -sensitive products must be shipped and delivered within 2 days to ensure quality.
Orders placed on Thursday or Friday will be shipped the following Monday, otherwise they can be expedited by selecting a faster shipping rate, if needed.
*Please note that because most of our items are temperature sensitive, we must use 2 day shipping. we provide ice packs to keep them cool through transit, ensuring the highest quality of our product.
How does free shipping work?
We occasionally offer free shipping discounts and these apply to our standard shipping rates. Expedited rates will receive a shipping discount.
Where does my order ship from?
We are based in southern California, this means orders being shipped across the U.S. to the east coast will incur higher shipping rates strictly based on distance. On the contrary, there are times we can ship to our local residents quicker. Just give us a call, and we'll be glad to help at: (760)931-1324 Monday-Friday 9a.m.-5p.m.

How does Angel's Club work?

When joining Angel's Club, you have three options to choose from: salami, charcuterie, or meat lovers box. Then, choose how often you would like it delivered (monthly, bi-monthly or every three months).
When you subscribe to one of our clubs, the order is processed and filled within one business day and is shipped on the following Tuesday.
The subscription will be billed on the recurring day for each month, while the product will be shipped on the coming Tuesday.
Can I upgrade or downgrade my subscription box?
Why not? Simply log in to your customer portal to modify your subscription settings, address, delivery date, or subscription club tier.
How do I cancel my Subscription?

Is it time to say goodbye? We make it easy for you. Simply log in to your customer account, find your subscription, and press "cancel". Cancellations are effective immediately.
Do I need to peel Angel's salami?

No! Because we use natural casing, you do not have to peel the casing off of our salami to enjoy. If you want to peel the casing off, we recommend running warm water over the salami until the casing lightly separates from the meat. Then peel like you would skin from a blanched tomato.
How should I store Angel's salami?
Our shelf-stable salami products can be kept in a cool, dry, dark place (like a pantry) for up to 10 months. After opening, place unused/yet-to-be-devoured portions in a Ziploc bag, or wrap with cling wrap. Refrigerate non-shelf-stable items! Please see website for shelf-stable / non-shelf-stable collections, and please see product labels for storage notes.
Is Angel's salumi / charcuterie Gluten-Free?

Angel's salumi and charcuterie (and general salumi / charcuterie) are Gluten-Free by nature. Please request ingredient lists for specific items if confirmation required!
What allergens are in Angel's products?
We will be happy to provide all allergy information for any item upon request.
What's the white stuff on my salami?

Sometimes white salt crystallization appears on salumi of small diameter and natural casing. This crystallization is NOT mold. When our natural pork casing products are very dry and very cold, the natural casing sometimes becomes white. This is a crystalline formation of salt, milk, and sugar which especially occurs in winter, or when storage is colder. This formation will disappear if you leave the salami at room temperature for 24hrs! *See Image Below*
How do I store my truffles?
When you get truffles, unwrap like a gift! Contact us within 24hrs with any potential issues. Keep up to 3wks, cool and dry in your fridge.
With Angel's Truffle Box, keep clean, dry truffles immersed in rice. Wrap truffles in unbleached paper towels to combat moisture. Change wrappings daily. If white formations form, brush off under cold water, dry well, and rewrap.
NOTE: Fresh truffles must be shipped overnight to ensure quality.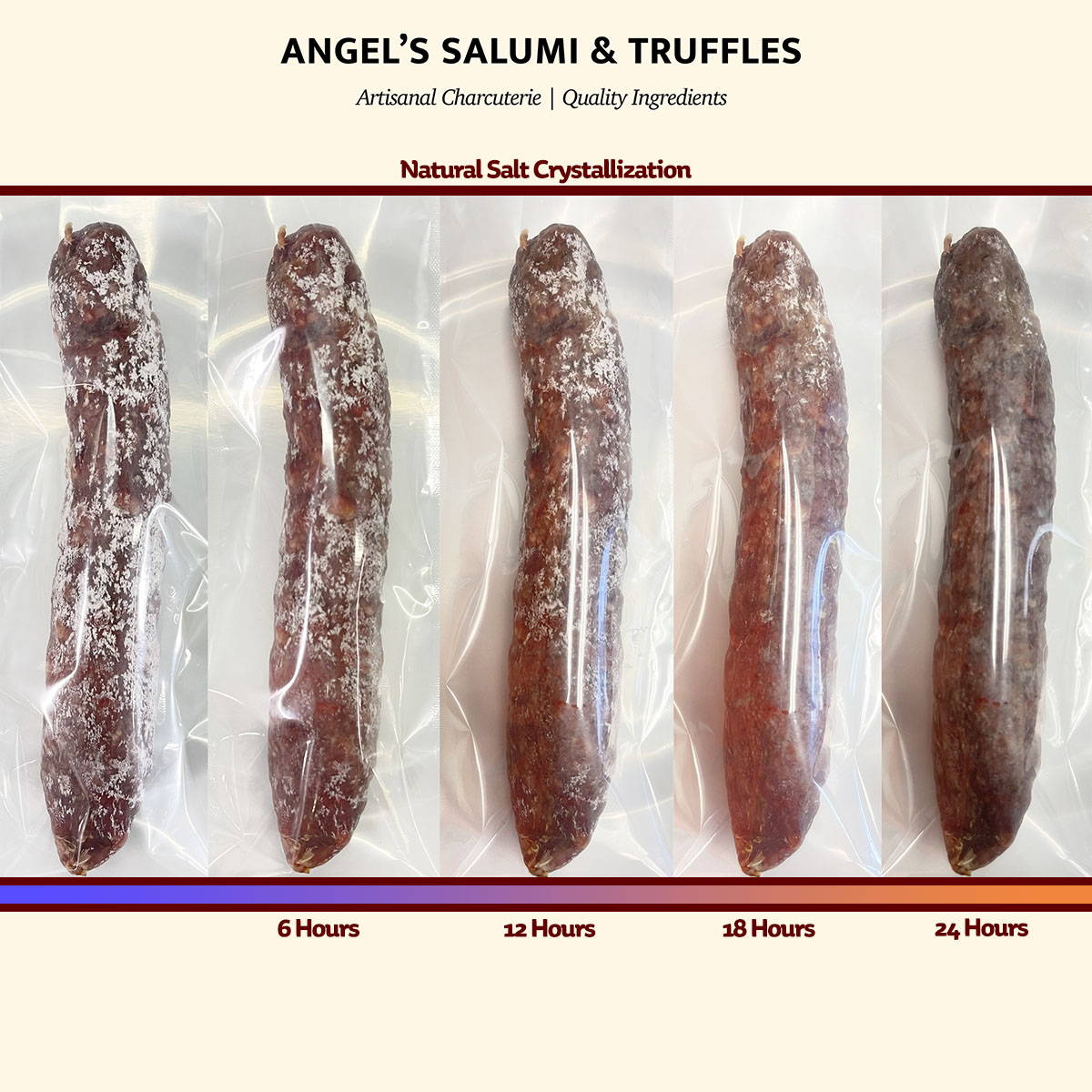 For further questions or concerns, please contact one of our specialists at (760-931-1324) or email us at order@angelsalumi.com
What's your return policy?
Unless one of the three promises we make below, we do not allow returns because our products are perishable. If you believe the product you received failed to meet these three promises, please contact us within 48hrs of receiving the product to open a ticket with our support team. When returns are possible, we will provide a return label and refund upon the successful return of the product. Here are our three promises:
1). You will receive the correct product, in its correct packaging and in the size that you ordered. *
If Angel's Salumi & Truffles does not have the product you have purchased in stock, a member of our team will notify you and offer a refund or suggest alternatives. If you do not return our calls within 48hrs, we will cancel your order and issue a refund.
2). Your products will be shipped within your chosen timeframe and to your provided delivery address. *
You pick the delivery timeframe at checkout, ex: FedEx 2nd Day, Overnight, etc. It is your sole responsibility to provide the correct address and date for delivery. Our products are weather-sensitive, and we do our best to ensure our product is safe, but it is your responsibility to be available to receive packages. Shipments that cannot be delivered due to an incorrect or invalid shipping address are disqualified from refunds. Payment for a second shipment will be assessed (assuming the original package returns to our distribution center). Packages deemed "delivered" to the correct address by the shipping company are also Shipments that are undeliverable and/or delivered incorrectly due to an incorrect, incomplete and/or invalid shipping address, or those deemed "delivered" to the correct address by the shipping company are disqualified from receiving a refund on shipping. Angel's Salumi & Truffles is not responsible for refunding shipping charges in cases where delays or delivery problems are caused by the shipping company, inclement weather, pandemics / disasters, or when customers return products without first notifying an Angel's Salumi & Truffles employee.
3). The products you receive will exemplify high-quality charcuterie. *
Angel's Salumi & Truffles promises to deliver you fresh, high-quality product! If you have a negative experience, please notify us within 48hrs of receiving your product so our support team can open a ticket to resolve the issue.