A History of French and Italian Cuisine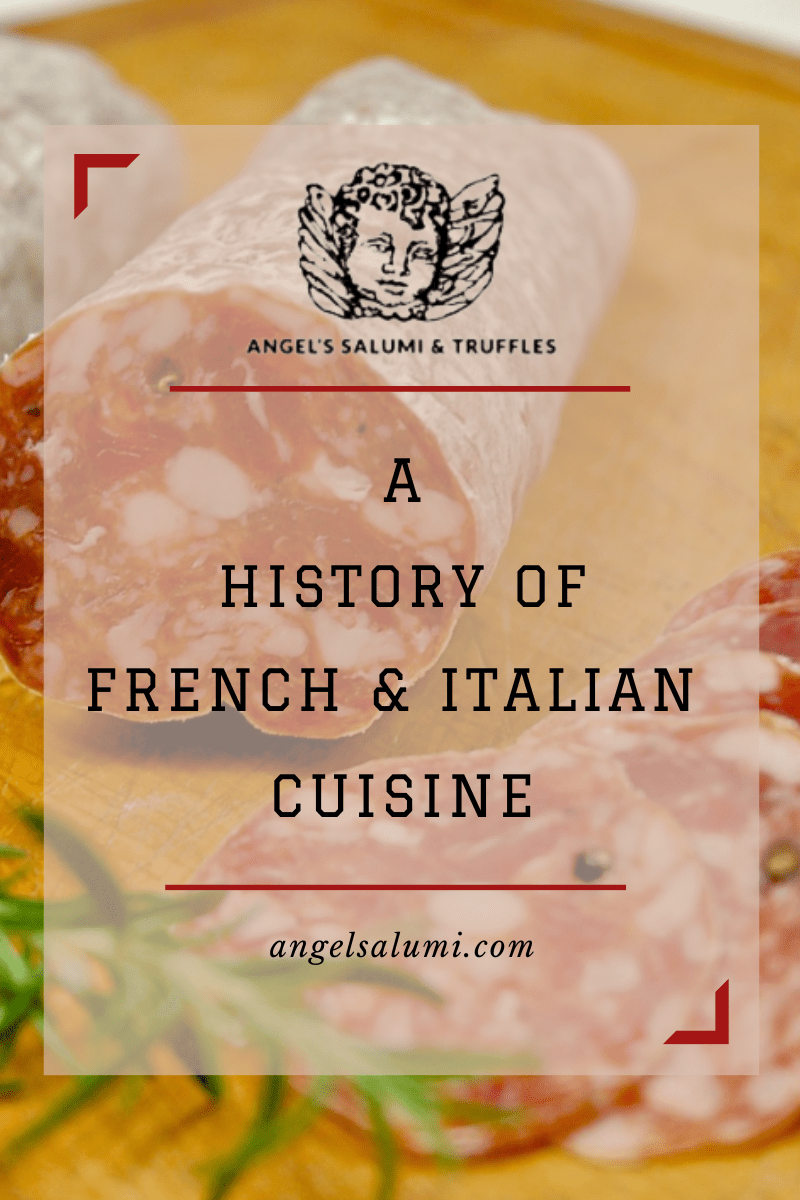 When you think of gourmet European food, you may very likely reminisce about French and Italian cuisine, How is it that this type of food grew to become so revered, not just in its own countries of origin, but throughout the rest of the world as well? 
As a passionate foodie, you may enjoy a place that not only provides artisan French and Italian cuisine, but that also helps you to further explore the different histories and the traditions that set the foundation for the creation of the food you are savoring. 
Feed your mind as you feed your stomach with a brief history of French and Italian cuisine to guide you on your culinary journey. 
A History of French and Italian Cuisine
The history of French cuisine stretches far back to the Medieval era (476 A.D. to 1400 -1450), during which all meals were taken in a manner known as service en confusion, meaning all of the meals were served at the same time. The vast majority of Medieval era French cuisine consisted of spiced meats – primarily beef, pork, fish, and poultry.
The meals eaten by the French during this time varied in accordance with the season and what type of food was plentiful, or simply available, during that season. The meats were preserved with smoke and salt, and the vegetables were salted and jarred for the hungry winter months. 
The presentation of the meals being served and eaten during this time mattered a great deal, with even the paltriest of portions artfully arranged in the most visually appealing manner possible. Vibrant colors were added to dishes with edible items such as saffron, egg yolk, spinach, and sunflower.
Over the course of the 15th and 16th centuries, the French people were heavily inspired by the progressive culinary practices launching in Italy. A blending of cuisines and cultures blossomed when Catherine de Medici was wed to Henry duc d'Orelans, Duke of Aumale. . 
Italian chefs were more advanced and innovative than the French cooks and chefs at the time. The Italian culinary specialists invented a myriad of dishes, like lasagna, and tested the use of ambrosial ingredients such as fresh truffles and garlic. Once Catherine de Medici brought her Italian chefs to France with her, the popular Italian culinary practices were introduced to the French court. 
Even with the vast cultural differences between these two nations, the history of French and Italian cuisine is one that overlaps and the two types of cuisine blend harmoniously on the plate.
It was during the Middle Ages that Arab Muslims occupied Sicily, bringing with them various types of spices and fruits that were never previously found on the peninsula. Furthermore, this period of marine travel gave rise to the need for innovative and creative cooking and preservation techniques to maintain food over long voyages at sea. This introduced the development of dried pastas.
Religion also played a pivotal role in the evolution of Italian cuisine during this time period. In the Christian religion, many dietary restrictions were placed on different foods the Church associated with sin (such as apples). Meat was plentiful, but only eaten sparingly due to religious reasons. This gave rise to the popularity of fish, cheese, bread, eggs, legumes, and other fruits.
The Renaissance heavily influenced Italian cuisine, with expanding communication taking place between Italy and neighboring countries throughout Europe. As busy, dense urban centers became the primary hub of trade and commerce, the Italian cuisine came out of the isolation of being limited to the agricultural regions. 
Now, Italian cuisine, cooking, and food as a whole became a source for multicultural sharing, celebration, and enjoyment. Many new ingredients and spices made their way into Italy through the sea ports, and the wealthiest of the population enjoyed the services of professional chefs in their homes.
During this time, Naples was ruled by the Spanish, who brought with them the tomato, which is native to Peru. Shortly thereafter, tomatoes became an Italian cuisine staple. Other foods introduced during this time were chocolate, peppers, squash, zucchini, corn, and beans. These "New World" foods are now a standard part of Italian cuisine. 
When Italy later unified in mid-19th century, the flavors of the geographical regions of the peninsula became what is today's Italian cuisine. 
As the history of French and Italian cuisine overlap, so have their many of their flavors of culinary practices. 
The History of French and Italian Cuisine Unify in Charcuterie 
A traditional charcuterie board or charcuterie platter includes: (French) dry cured meats, Offal charcuterie, and salami; (Italian) dry cured meats, cheeses, preserved vegetables, and grapes. 
The modern charcuterie boards include a wide range of variations and are very open to interpretation and individual aesthetic preferences, though the cured meats and cheese are still the focus of the spread.
[READ: How to Make the Perfect Thanksgiving Charcuterie Board ]
Some of the best (and flavorfully luxurious) ways to blend French and Italian cuisine on a charcuterie board are with dry cured meats, cheeses, antipasti, and crackers that have a little bit of both cultures' culinary practices in their preparations and arranging them in a way that complements one another. 
Soppressata Piccante Salami 
Starting with one of the most famous Italian dry cured salamis, our Soppressata Piccante Salami is made with 100% Berkshire pork meat. It is fermented and then aged for three months in a dry room, and contains a natural casing for minimal acidity. This savory salami is prepared with fennel, red wine, Grappa, and Picante spices. 
Black Truffle Salami
Bringing in the taste of the history of French cuisine, Black Truffle Salami is made with 100% Berkshire Pork meat and 5% Black Truffles from Perigord, France. This unique salami is dry-cured, fermented, and aged for three months in a dry room. We prepare our Black Truffle Salami with French Brandy and spices for an unforgettable flavor.
[READ: What Makes Berkshire Pork So Special? ]
White Truffle Salami
The flavors of the history of French and Italian cuisine mingle together in the White Truffle Salami. This unique salami is made with 100% Berkshire Pork meat that has been dry-cured, fermented, and aged for three months in a dry room. Our recipe for our White Truffle Salami includes 5% White Truffle from the Alba region of Italy, as well as Grappa and white peppercorn. 
[READ: What Does Truffle Salami Taste Like? ]
Duck Salami 
Angel's Salumi & Truffles was the very first in the world to premiere Duck Salami. Certified cage-free, antibiotic-free, and hormone-free, our Duck Salami is prepared French-style with a rich flavor. This salami is seasoned with red wine and black peppercorn, dry-cured, fermented, and aged for two months. Our Duck Salami contains an easily removable, natural pork casing. 
Italian Toscano Salami
Bringing back the Italian cuisine, our classic Italian-style Toscano Salami is made with 100% Berkshire Pork meat. The salami is fermented, aged for three months, and prepared with black peppercorn, white wine, and fresh garlic. 
[READ: The Best Salami and Cheese Pairings for Quick and Easy Charcuterie ]
French Rosette Salami 
Finally, complete the dry cured meats portion of your French and Italian charcuterie platter with some French Rosette Salami. Our traditional French Rosette Salami is made with 100% Berkshire Pork meat. The salami is prepared with the sweet flavors of clove, nutmeg, garlic, and white wine to encompass the traditional recipe of Rosette, and is then fermented and aged for three months. 
Black Truffle Foie Gras Terrine
Our Black Truffle Foie Gras Terrine is made using Certified Cage-Free Hudson Valley Farms duck liver and 5% black truffle. Chef Pascal Besset uses a traditional French preparation with sea salt, pepper, and Sauterne wine to bring out the rich, buttery, and delicate flavor that defines this French delicacy. Serve the Black Truffle Foie Gras Terrine cold with fresh Baguette bread. (Sold exclusively outside of California.)
Taggiasche Olives in Brine 
Taggiasche Olives in Brine are the perfect addition to any charcuterie platter celebrating the history of French and Italian cuisine. Taggiasca olives are a classic olive from the hills of Oneglia, Italy. These olives are grown on the Ligurian coast some 200-500 meters above sea level, and they are harvested by hand. The plump Taggiasca olives are a culinary delicacy due to the notably low flesh-to-pit ratio. With a firm texture and a sweet and fruity flavor profile with hints of nutty almond, these Taggiasche Olives in Brine pair well with seafood, rabbit, salads, citrus flavors, mild cheeses, and flavoring sauces.
Italian Artichoke Hearts
Enjoyed plainly with warm bread or added to your history of French and Italian cuisine inspired charcuterie board, Italian Artichoke Hearts are savory, delicate, and delicious. These are freshly harvested artichoke hearts grown in Italy and marinated in pepper and extra virgin olive oil to create a richly flavorful product that enhances the taste and experience of every meal it is part of. 
Sun-Dried Tomatoes in Olive Oil 
Remember the introduction of the tomato into Italy? Frantoio di Sant'Agata d'Oneglia Sun-Dried Tomatoes are made according to the family's great-grandmother's ancient recipe: Marinated in their extra virgin olive oil. Place the sun-dried tomatoes on bread, with a few capers, and a little bit of Frantoio's finest extra virgin olive oil, just like the old Ligurian coastal dwellers would do. 
[READ: How Extra Virgin Olive Oil is Made ]
Trufa Negra - Black Truffle Cheese 
Trufa Negra is an impressive cheese with an elegant appearance and personality, holding rich nuances and strongly pronounced flavors. This cheese is made from pure sheep's milk with a cure of 20-30 days, and premium black truffles woven throughout its interior. The sophisticated, attractive Trufa Negra cheese pleases and surprises both amateurs and connoisseurs of French and Italian cuisine alike! 
Comté - Aged 10 months
Comté is an Alpine cheese made from cow's milk and similar to Swiss Gruyère, but crafted across the border in the French region of Jura. This is a handmade, artisan cheese featuring a tight-knit texture and satiny body. The flavors of this cheese vary in intensity based on the season, production methods, and the age of the cheese. This 10-Month Reserve from Seignemartin boasts notes of apricot, hazelnuts, and toffee. This is a wonderfully versatile cheese, one that is equally great for both snacking and cooking. 
Experiencing the Flavor-Rich History of French and Italian Cuisine
Food is a vital element of French and Italian culture, with a rich culinary history that brought new flavors, dishes, and gastronomic experiences to both the old and present-day societies. At Angel's Salumi & Truffles, the history of French and Italian cuisine come together with artisan charcuterie meats, antipasti, cheeses, and more. 
Sample individual items, such as the Black Truffle Salami or the Italian Toscano Salami, or feast upon a diverse array of French and Italian culinary delicacies with our artisan gift basket selections.