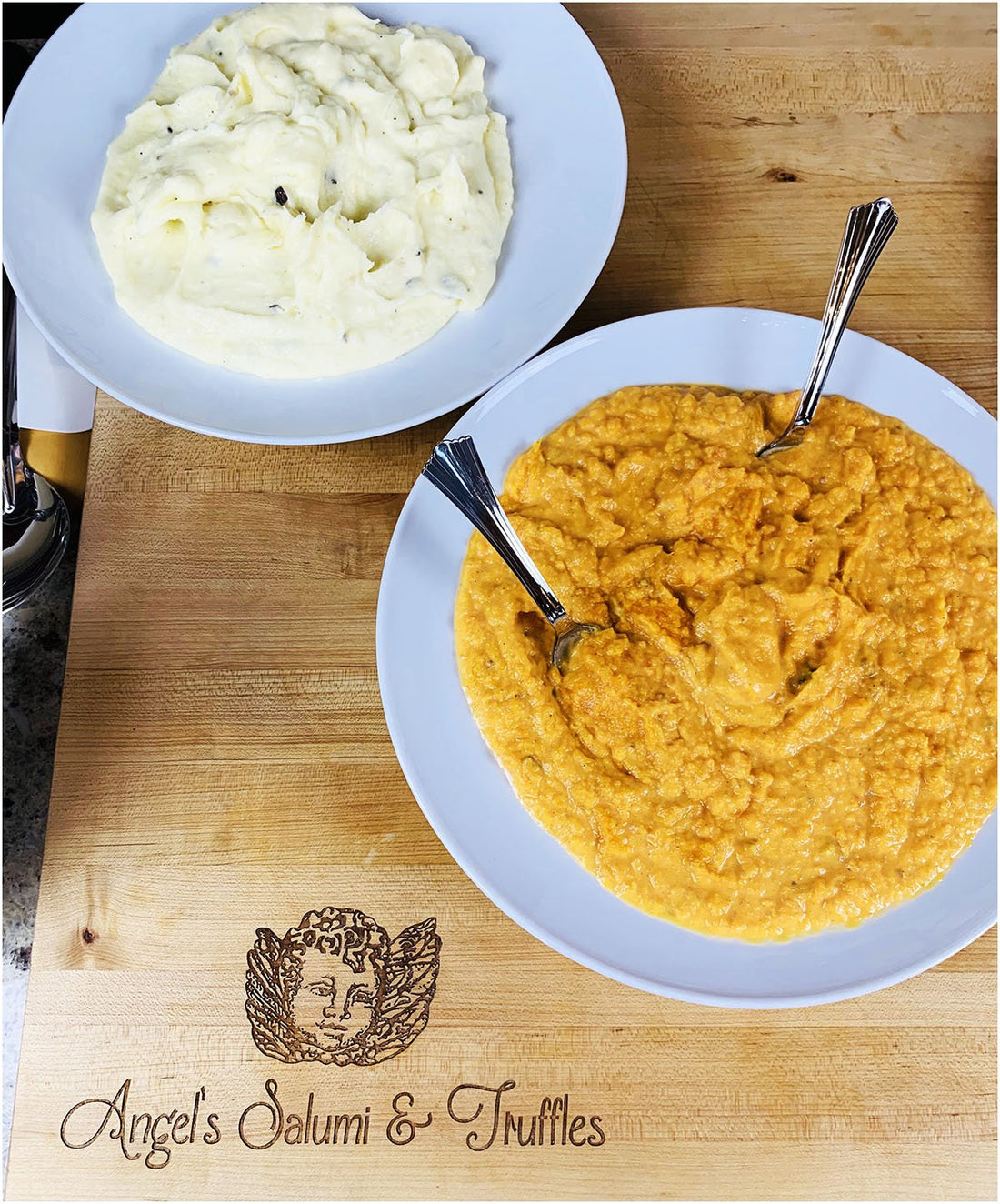 Here is a quick and easy way to transform your mashed potatoes into something absolutely spectacular this Thanksgiving.  Forget about that sweet potato and marshmallow nonsense and elevate your holiday cooking with Angel's Salumi & Truffles' White and Black Truffle Butter. This dish takes no time at all and you will be sure to dazzle the guests you have gathered around the thanksgiving table this year. 
In order to prepare this luxurious dish, you will simply need potatoes (yukon gold or the sweet potato variety), cream, salt & pepper, and our own Maison f. Crayssac White or Black Truffle Butter!
Cook Time: 15 minutes
Ingredients
[ingredients]
-Yukon Gold Potatoes
          -or-
-Sweet Potatoes
-Heavy Cream
-Truffle Butter, White or Black
-Salt+Pepper
 
[/ingredients]
Preparation
[directions]
Truffled Mashed Potatoes:
Peel your potatoes.
Fill a large pot 3/4 of the way with salted water.
Add potatoes, bring to a boil until tender with a knife.
Drain potatoes.
Mash the potatoes in a bowl.
Add 1/2 quart of heavy cream to 1 kilogram (2.2 lbs) of potatoes.
For yukon gold potatoes, add 8 oz Black Truffle Butter.
-For sweet potatoes, add a little less than 8 oz White Truffle Butter.
Add salt and pepper to taste.
Continue to mix until you reach desired consistency.
[/directions]